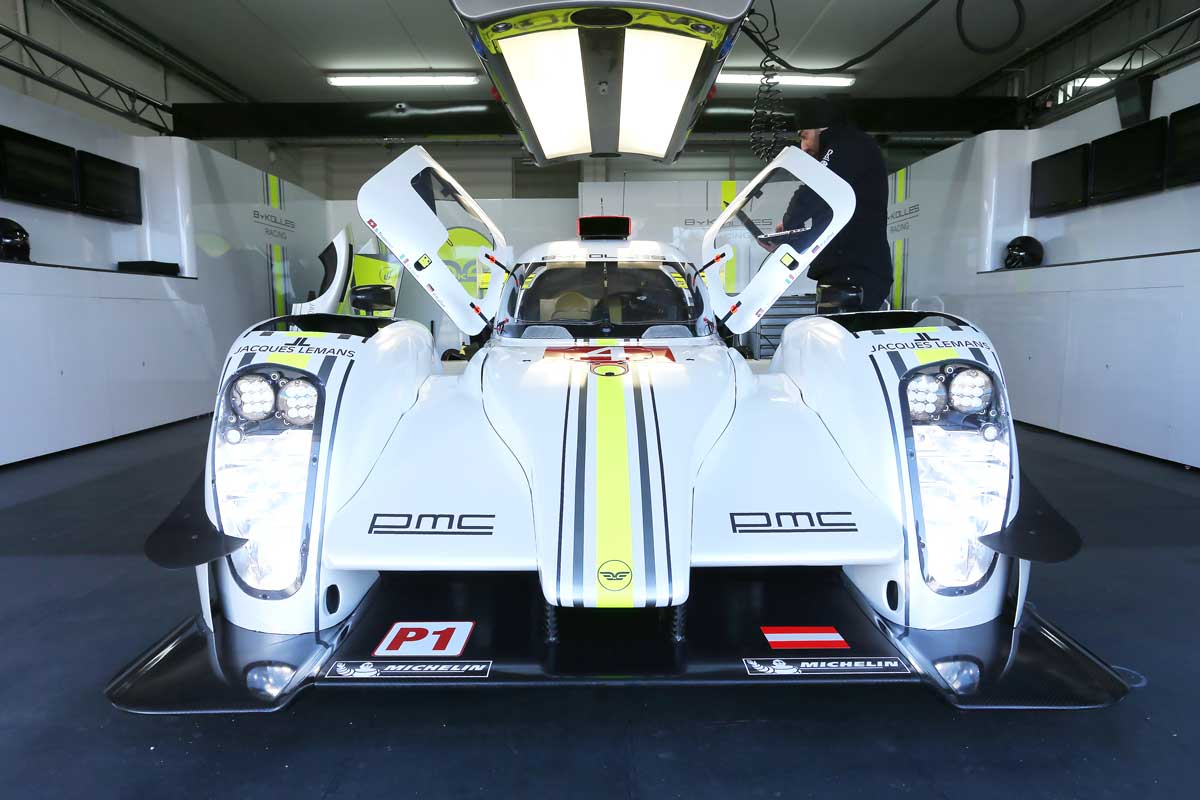 ByKOLLES RACING ready for WEC season following Paul Ricard test debut
The FIA WEC Season 2015 kicked off yesterday (27th March) with the official prologue at the French circuit Paul Ricard. Austrian LMP team, ByKOLLES RACING, clocked up approximately 1,100km with the CLM P1/01 over the course of the two day test making the most of the opportunity to gather important data ahead of the official season opener at Silverstone in two weeks time.
With ByKOLLES RACING team drivers Simon Trummer (CH), Vitantonio (Tonio) Liuzzi (IT) and Pierre Kaffer (DE) behind the wheel, the CLM P1/01 covered approximately 700km on Friday and 500km today at the 5.8km Le Castellet track. By carefully analysing the data collected, the team can now focus on the best possible race set-up and strategy for the all important race ahead.
Despite never having driven at the track, Simon Trummer, adapted to both the new circuit and the car quickly and made huge progress throughout the duration of the test. "It was a real challenge driving at Paul Ricard and at the beginning I had to adjust to the car and a new track route", said the young Swissman. "The start of the season is always hard when you've had a break from the track. The second test in the afternoon was considerably better and I got into a great rhythm with the car."
ByKOLLES RACING opted to run their test car rather than the final race vehicle. "We collected a huge amount of important data with the car", said Boris Bermes, ByKOLLES RACING Director of Operations. "Our goal was to do as many laps as possible to develop the best motor strategy and to improve the aerodynamics of the car." This is mainly useful for the upcoming race in Silverstone. "The race at Silverstone is approaching fast so we'll be focussing everything now on making sure that we are as prepared as possible for our first competitive outing."
Pierre Kaffer was behind the wheel for the first stint on Friday setting a guide time for Tonio and Simon, who shared the steering wheel in the sessions from Friday to Saturday. "The test was really interesting", said Tonio Liuzzi. "I didn't know the car before. At the beginning we had some minor problems, but the team did a great job and we improved a lot. We clocked up a lot of kilometres and I had a good amount of time in the car."
In summary the LMP1-contender completed 1.100 kilometres, with 18 hours of combined driving time. The test also provided an invaluable opportunity for ex-F1 driver to get to grips with real night driving. "Tonio has experienced night races in Formula One", said Boris Bermes. "But he has never driven on a completely dark circuit." Testing like this under real race conditions is especially important for preparing for events like the iconic 24 Hours of Le Mans, the highlight of the WEC season.
"Overall we are very happy with the test", concluded Boris Bermes at the end of the the two day test. "This was great preparation for the team and for the drivers. We're really looking forward to the first race and are excited to see what we can do."