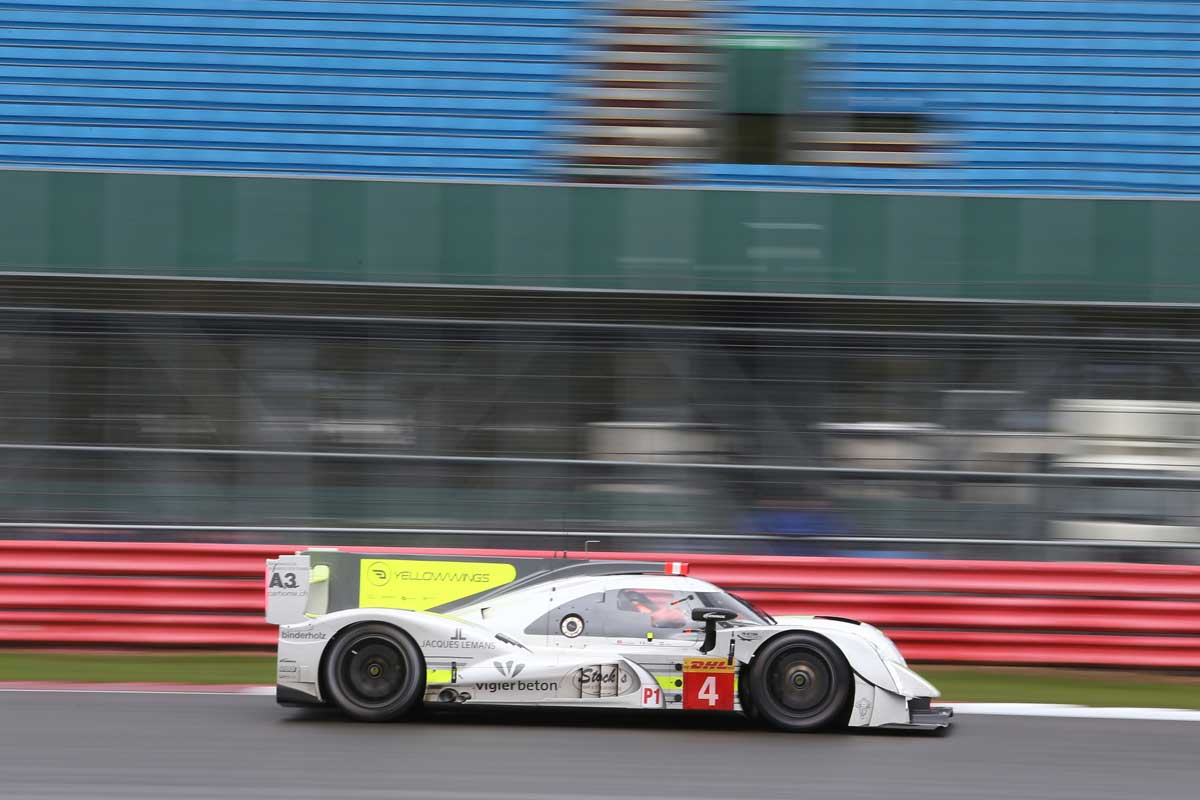 ByKOLLES RACING taking the most from Silverstone debut
This weekend (11th/12th) marked the race debut of Austria's first LMP team, ByKOLLES RACING, at the opening round of the FIA World Endurance Championship at Silverstone, UK. Despite the race finishing early for the team due to an unfortunate collision, ByKOLLES RACING remain positive and focussed, determined to take the most from the experience and use it to prepare for the races ahead.
The first six hour race of the FIA WEC Season started at 12pm on Sunday and Vitantonio (Tonio) Liuzzi (IT), who was behind the wheel of the CMP P1/01 for the rolling start, faced a huge challenge during the first lap: "It was a difficult start to the race. I was forced back at the very of the beginning", said the Italian. To avoid an even bigger collision, the 33-year-old had to go on to the grass. The incident resulted in damages to the radiator and the underneath of the car, the aerodynamics of the car were also affected. The team's mechanics pushed flat-out for over half an hour to get the CLM P1/01 back on the track.
The damage caused by the collision also had a knock-on affect for Simon Trummer (CH), as he made his endurance debut. "We struggled with problems with the front right suspension due to first lap incident," the young Swiss driver explained. However despite everything the 25-year-old was able to demonstrate his skills and impressed with his consistency. "The first race was important for Simon to learn a lot", commented Boris Bermes, ByKOLLES RACING Director of Operations. "Simon's lap times were really consistent and that's very encouraging and a strong basis for the races ahead".
Austrian race driver Christian Klien (AT), who joined the the team at the weekend as a third driver when Trummer experienced air-strike related travel problems, also showed the potential of the CLM P1/01 toward the end of the race. "Our lap times were much faster towards the end of the race than at the beginning", said the 32-year-old. Unfortunately he had to park the car 40 minutes before the race finish due to engine ancillary failure. "Even if we were forced to finish the race early, I had a great weekend and it was a lot of fun", summarised Klien. "I'm very grateful to the team to have the opportunity to join them at the last minute."
Summarising the team's performance, Boris Bermes said: "It's unfortunate that we had to finish the race earlier than we thought especially due to a situation out with our control, but as always, we have to take the positives: we had three great training sessions – one of which was in the rain, that's great preparation for the races ahead. The whole team did a great job at the weekend and they've clearly demonstrated once again that they can work really well together under very high pressure. Now we looking forward to the race at Spa- Francorchamps and, with the experience of Silverstone under our belt, we feel well prepared for the second race."